FAMM: Fighting for Sentencing and Prison Reform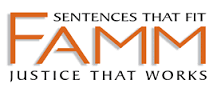 Today's Earning Freedom podcast features an interview with Julie Stewart, founder of FAMM—Families Against Mandatory Minimum Sentences. I first heard about FAMM in 1991. At the time, our nation was ramping up prison population levels with the War on Drugs. I already had served the first four years of my prison term and I was scheduled for 22 more years of confinement. In FAMM's work, I found inspiration.
Like many Americans, Julie Stewart didn't give much thought to criminal justice issues until the subject matter became personal. A judge sentenced her brother to a five-year mandatory minimum sentence for growing marijuana on his property. Julie became concerned when she heard of the judge's reservations about imposing such a lengthy sentence on a nonviolent, first-time offender. Mandatory-sentencing laws required the term. At the time, she didn't know the meaning or influence of a mandatory-minimum sentence.
At the time, our nation was ramping up its War on Drugs and embarking upon a prison-building binge. Congress passed mandatory-minimum sentences that exposed offenders to minimum sentences of five years, ten years, or longer if the crime crossed a specific threshold of drugs. Many judges opposed those mandatory-minimum sentences.
Judges were in the courtroom. Since they considered the evidence and the defendant's personal characteristics, judges believed they were in a better position to determine an appropriate sanction. The mandatory-minimum sentencing scheme limited their ability, however. Even when they wanted to impose a lower sentence, they couldn't if the crime required a mandatory-minimum sentence.
Julie began working to change those injustices. She and her team at FAMM have had many successes. Through her skillful leadership, FAMM has become a useful force. She has influenced legislators on the state level, on the national level, and in the sentencing commission. Some clear FAMM victories include the introduction of the Safety Valve, which allowed judges to depart from the mandatory-minimum sentences. FAMM also was instrumental in changing laws that required lengthy sentences for specific offices.
Tens of thousands of people have benefited because FAMM does such a remarkable of advocacy. The incarcerated and the formerly incarcerated owe the team of FAMM a great deal. They're in the forefront of helping more Americans understand why our nation's commitment to mass incarceration is one of the greatest social injustices of our time. As a consequence of their hard work, we're not seeing more people interested in sentence and prison reform.
If you'd like to learn strategies to overcome struggle, inquire about our MasterMind group.