How To Use Time in Prison to Prepare for Success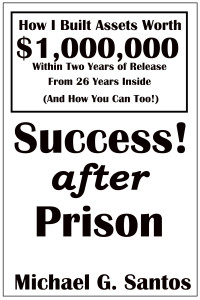 On August 12, 2013, I concluded 26 years in prison. Two years later, I controlled assets worth more than $1,000,000. How did that happen? Today's podcast announces a new book that I'm going to begin writing. The book describes the specific path that I took. It also will show how others can employ these strategies to lift themselves from struggle to prosperity.
Paul Wright, founder of Prison Legal News, inspired me to write the book. We were having dinner one night in Sacramento. Both of us were in Sacramento to contribute to a judicial seminar in the fall of 2015. He suggested that I purchase an advertisement in Prison Legal News for books that I've written. After talking more about his readership, I concluded that in addition to offering books I've written about mastering the prison system, I should write a book about success after release.
Today's podcast outlines the book. I purchased the ad space and now I'm going to write the book. Those who would like a copy may read updates through my website at MichaelSantos.com
Help spread the word on why we should reform our prison system by subscribing, rating, and reviewing the Earning Freedom podcast on iTunes.
Click this link to subscribe, rate, and review.