Jeff Smith's Episode on Earning Freedom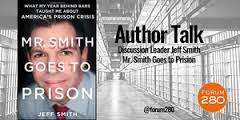 Today's episode features Jeff Smith, a former senator from the state of Missouri's legislature. He talks about decisions that led him to prison and about his initial adjustment. While working in a food warehouse the federal prison camp in Manchester, Kentucky, Jeff took steps to document his journey. After overcoming some challenges upon release to enter the job market, Jeff persuaded a university to hire him. He now teaches students about government and the prison system. He also published a book with St. Martin's Press that is called Mr. Smith Goes to Prison.
Help spread the word on why we should reform our prison system by subscribing, rating, and reviewing the Earning Freedom podcast on iTunes.
Click this link to subscribe, rate, and review.