Media Spokesperson on Prison
Erik Jensen on Earning Freedom
At the very tender age of 11, Erik Jensen was living in an abusive, single parent household with daily violence fueled by alcoholism. He sought escape on the streets, committing theft, selling and using drugs, and was always in trouble with the law until Erik found himself in some of the worst prisons in New York.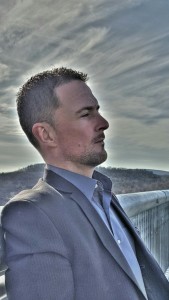 From his late teens to mid-twenties Erik was convicted on an array of charges including Robbery in the Second Degree, Promoting Prison Contraband, and Criminal Possession of Stolen Property in the 4th Degree. He ended up serving 12 years collectively in the New York State Department Of Corrections. He did his time at Greene, Franklin, Watertown, Bare Hill, Five Points, Attica, and in 2011-2012 at the now infamous Clinton Correctional Facility in upstate New York. It was there he became well acquainted with inmates David Sweat and Richard Matt. On June 6, 2015, the two convicted murderers pulled off one of the most daring prison escapes in recent history.
During his imprisonment Erik was witness to atrocities perpetrated against fellow inmates by several of the guards. He also observed abominable behavior inflicted on inmates by each other, convincing him that the U.S. penal system takes in the bad and instead of rehabilitating, it makes them worse.
Erik is a self-taught scholar in the field of prisoner transformation. He uses his own personal experience to revitalize the mind and spirits of men and women who have shared a similar path in life. Through his words, Erik illustrates that we are much more than the worst thing we've ever done, and that the potential for doing good resides within every one of us.
Given his vast knowledge of the Department of Corrections; Clinton Correctional Facility; David Sweat, Richard Matt and their escape; their accomplices, civilian worker Joyce Mitchell and guard Gene Palmer; plus the barbaric culture of the prison system, Erik Jensen is a consultant on an array of projects with television networks and major motion picture production companies. He is a producer for an upcoming Netflix series, based on the Clinton escape; directed by Jodie Foster, and Executive Produced by Bryan Zuriff and Brett Johnson of Ray Donovan and Mad Men.
Erik has been interviewed more than 40 times live on over a dozen networks, including CNN, ABC, CBS, NBC, HLN, TWC, PIX11, WNYT13; plus numerous other news media, such as GQ, People, and Time magazines. He has appeared and played a prominent role in television specials: Nightline, Outside The Wall, The Great Prison Break, Inside Edition, Up Close with Marvin Scott, 360 Anderson Cooper, Outfront with Erin Burnett, At This Hour with John Berman and Kate Balduan, and Dateline: "The Accomplice" with Matt Lauer. 
Erik continues to share his views with the world by consulting on disturbing issues in the prison system nationwide, such as corruption, physical and mental abuse, and the long-term effects of solitary confinement. He has participated in myriad televised debates hosted by award winning journalists such as Deborah Feyerick, Randi Kaye, and Jessica Schneider.
Erik is a regular guest speaker on numerous Dutchess County Legislator forums concerning criminal justice reform, and makes weekly guest appearances on County Legislator Joel Tyner's radio show on WVKR 91.3 FM.
He is also frequently invited to the "Earning Freedom" podcast. A California based show created by Michael Santos that is broadcasted in jails and prisons nationwide.
SUNY New Paltz welcomes Mr. Jensen every semester to speak with students studying Criminology. He also volunteers at Redhook Residential Youth Facility, where he shares his story of recovery and redemption with juvenile delinquents.
Erik is currently a contributing writer at Unheard Voices magazine. See: www.unheardvoicesmag.com
He also volunteers with numerous criminal justice reform organizations including but not limited to: Cut50, Prisoner's Legal Service, and Beacon Prison Action. His memoir is due out in 2017.
MEDIA EXPERIENCE:
ABC: Nightline
Contacted by Yu Fanting
Interviewed by Juju Chang
            ABC Nightly News, Good Morning America, and 20/20
Contacted and interviewed by Linzie Janis (interview used on all three shows)
CBS: CBS News
Contacted and interviewed by Jessica Schneider
NBC: Dateline: "The Accomplice" with Matt Lauer
Contacted by Cassandra Marshall
Interviewed by Cassandra Marshall & Matt Lauer
NBC News
Contacted by Laura Allenbaugh
Interviewed by Chelsea Damberg
CNN: Anderson Cooper360 
Contacted by Kari Pricher
Interviewed by Anderson Cooper (twice)
            Outfront with Erin Burnett 
Contacted by Kayte Steinmetz
Interviewed by Erin Burnett (seven times)
            CNN Newsroom:
            Contacted and interviewed by Brooke Baldwin (twice)
            At This Hour with Berman and Balduan
Contacted by Marie Malzberg
Interviewed by John Berman and Kate Balduan (five times)
            The Great Prison Escape: CNN Special Report
Contacted and interviewed by Randi Kaye
            Fredricka Whitfield
Contacted by Sarah Edwards
Interviewed by Fredricka Whitfield
            CNN Remote studio interview
Contacted and interviewed by Carol Costello for later broadcast and syndication
            Deborah Feyerick (documentary)
Contacted and interviewed by Deborah Feyerick
PIX-11: Special Report
Contacted by Veronica Rosario
Interviewed by Kori Chambers and Sukanya Krishnan
            Up Close with Marvin Scott 
Contacted by Ellyn Marks
Interviewed by Marvin Scott
MSNBC: Special Report
Contacted by Tara Ayers
Interviewed by Tamron Hall
WNYT-13-NBC: Special Report
Contacted and interviewed by Jessica Layton
TIME WARNER CABLE SPECIAL: Behind the Wall
Contacted and interviewed by Michael Howard
GQ MAGAZINE
Contacted and interviewed by Cole Louison
PEOPLE MAGAZINE
Contacted and interviewed by Jeff Truesdell
NY POST (two page spread)
Contacted and interviewed by Jamie Schram
TIME MAGAZINE ONLINE
            (My sound bites used in an article on The Great Escape)
GAWKER MAGAZINE
Contacted and interviewed by Gabrielle Bluestone
SIRIUS XM RADIO – Channel 121 with Margaret Hoover.
Contacted and interviewed by Margaret Hoover
           Channel 45 (Shade45) – Sway in the Morning Show
SHOPFM 
             National Internet Radio Show
NPR – In depth interview with Brian Mann
AREAS OF ANALYSIS INCLUDE:
A strong knowledge of the structure of the New York State Department of Corrections, the Criminal Justice System, the Court System, and Law.
Prison Life
Corruption inside Correctional Facilities
Escape from Prison
Relationships between Corrections Officers/Employee's and Prisoners inside Prison
The Criminal Mind
Re-Entry
Rehabilitation
The Effects of Long Term Solitary Confinement
Prison Reform
LINKS TO SHOWS:
DATELINE : http://www.nbc.com/dateline/video/dateline-september-18-2015/2905381?onid=209511#vc209511=1
ANDERSON COOPER: http://www.bing.com/videos/search?q=erik+jensen+anderson+cooper&FORM=VIRE2#view=detail&mid=64CAE0EB9F4FB0C0597064CAE0EB9F4FB0C05970
CNN – OUTFRONT WITH ERIN BUNETT: http://cnn.it/1N6c9O4
CNN – OUTFRONT WITH ERIN BURNETT: http://www.cnn.com/TRANSCRIPTS/1506/29/ebo.01.html
CNN – OUTFRONT WITH ERIN BURNETT: http://www.cnn.com/TRANSCRIPTS/1506/24/ebo.01.html
CNN – OUTFRONT WITH ERIN BURNETT: http://transcripts.cnn.com/TRANSCRIPTS/1506/26/ebo.01.html
CNN – AT THIS HOUR WITH BERMAN AND BALDUAN: http://www.cnn.com/videos/us/2015/06/24/manhunt-escapee-prison-worker-relationship-jensen-ath.cnn
CNN – AT THIS HOUR WITH BERMAN AND BALDUAN: http://www.cnn.com/2015/06/25/us/new-york-prison-break-contraband-smuggle/
ABC NEWS: http://abcnews.go.com/US/video/inmate-discusses-joyce-mitchell-david-sweat-relationship-32031236
GOOD MORNING AMERICA: https://gma.yahoo.com/ny-prison-escape-former-inmate-describes-alleged-cozy-180027020–abc-news-topstories.html#
NY DAILY NEWS: http://www.nydailynews.com/news/crime/joyce-mitchell-inmate-relationship-running-joke-article-1.2269529
INSIDE EDITION: http://www.insideedition.com/headlines/10899-ex-inmate-flirty-joyce-mitchell-brought-killer-david-sweat-barbecued-ribs-big-chicken
NY POST: http://nypost.com/2015/06/24/shawskank-had-closet-sex-with-killer-4-times-a-week-ex-inmate/
WNYT13 IN DEPTH INTERVIEW WITH JESSICA LAYTON: http://wnyt.com/article/stories/s3859746.shtml
PIX11 UP CLOSE WITH MARVIN SCOTT: http://pix11.com/2015/07/04/former-clinton-correctional-inmate-discusses-life-behind-prison-walls-david-sweat/
PIX11 WITH SUKANYA KRISHNAN AND KORI CHAMBERS: http://pix11.com/2015/07/04/former-clinton-correctional-inmate-discusses-life-behind-prison-walls-david-sweat/
NIGHTLINE WITH JUJU CHANG: http://abc.go.com/shows/nightline/listing/2015-07/01-nightline-070115-prison-of-passion-relationships-between-female-officers-inmates
CBS INTERVIEW WITH JESSICA SCHNEIDER: http://newyork.cbslocal.com/2015/06/19/correction-officer-david-sweat-richard-matt/
DAILY FREEMAN: http://www.dailyfreeman.com/general-news/20150625/escapees-affair-with-prison-employee-no-secret-says-local-man-who-did-time-at-dannemora
PEOPLE MAGAZINE: http://www.people.com/article/former-jailmate-relieved-capture-and-death-new-york-prison-escapees
GAWKER MAGAZINE: http://gawker.com/prisoner-says-tillie-and-the-escaped-inmate-did-it-at-l-1713591919
MSNBC THOMAS ROBERTS SHOW: http://www.msnbc.com/thomas-roberts/watch/joyce-mitchell-details-prison-break-plan-528139331771
NEWSNATION WITH TAMRON HALL: http://www.msnbc.com/newsnation/watch/former-inmate-talks-about-joyce-mitchell-525187139634
NORTH COUNTRY PUBLIC RADIO:
http://www.northcountrypublicradio.org/news/story/30014/20151105/how-crossed-lines-cut-corners-and-cozy-relationships-led-to-dannemora-apos-s-big-prison-break
Contact:
ERIK J. JENSEN
CONSULTANT/ANALYST/AUTHOR
CRIMINAL JUSTICE ADVOCATE 
AGENT EILEEN COPE 
ecope@markcrreativemanagement.com
845.464.5878