Conquering Prison
Rodney White is a native of Richmond Virginia and served 15 years of an 18-year sentence for drugs and firearm charges. He tells his inspiring story on the Earning Freedom podcast. After release from prison, Rodney became an award winning sales person, motivational speaker, facilitator, community college academic adviser, and radio host.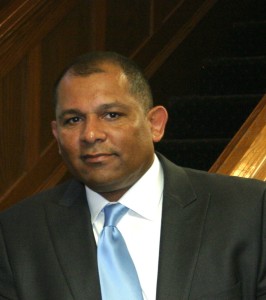 Audiences are drawn to Rodney because of his unique ability to develop and deliver practical solutions to people in transition and growth. His strength is in providing simple strategies that enable individuals and organizations to pursue their goals with confidence and clarity. In his "R.E.A.D. to Succeed," motivational program Rodney delivers a message that inspires and teaches a very simplistic way of problem solving.
Drawing on skills honed as an inmate, salesperson, business owner, and speaker, Rodney has created and conducted training programs for groups ranging from trade associations to governmental agencies and educational institutions. Rodney's insightful program makes an impact instead of an impression because they regularly include the use of humor, powerful examples, and frequent audience involvement. His client list includes Richmond Public Schools, National Work Force Development Association, Virginia Department of Corrections, Goodwill Industries, Federal Bureau of Prisons, The US Justice Department, and a host of other business and education-related organizations.
In addition to his success as a speaker, Rodney is an accomplished producer. His latest DVD, "R.E.A.D. to Succeed from prison to paradise," with Rodney White, offers a powerfully practical way to get better results in times of change and reentry.
Rodney is also a member of the International Honor Society and graduated with honors from the University of Richmond and earned a Master's degree in Adult Education at North Carolina A&T State University in Greensboro NC where he resides and works as an academic adviser for a local community college.
When asked about his approach to life,
Rodney responds by saying that "Every setback is a setup for a great comeback." Rodney is active in his community and because of his commitment to improving the lives of others; Rodney has been presented several awards and honors as a speaker and has volunteered with youth programs such as Street Law and Richmond Midnight Basketball League. He is a consultant and mentor with R.O.O.T.S (Reinventing Ourselves Outside of The System) an offender based reentry program started within the Richmond City Jail.
Rodney is CEO of the Rodney White Group; a business meeting the training and development needs of individuals and organizations.
—
Everything that you want in life you will get by just helping others get what they want.
Greensboro, NC 27427-8188