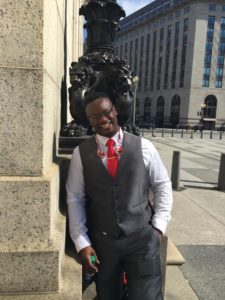 Today I interviewed Marcus White for the second time. He talks about his adjusting in society after decades in prison. Below is a brief bio he wrote.
At nineteen years old the penal system had nearly captured the rest of
my natural life for gang violence. Sitting in a jail cell paralyzed
with this gripping fear that i'd die in a prison I found myself on
many nights with tears in my eyes as I clung to hope for a second
chance. Fortunately for me that second chance came in the form of
18yr. 9mon. prison plea agreement. Overwhelmed with a sense of
gratitude and a new zeal for life, I vowed to use these years to
better myself. First by ridding myself of the gang infested mentality
that had enslaved my mind and dictated my actions for so many years.
Secondly pursuing personal growth relentlessly, taken advantaged of
all the programs DOC had to offer, and engaging myself in any and
every curriculum I could get my hands on. And sixteen and a half years
later I returned home with this nagging ambition to execute the plan
that I had devised while sitting in a prison cell fantasizing about
what my freedom looked like. Today five months and three weeks after
my release, I work for an amazing non-profit serving the people in my
community with furniture and mattress to sleep on, while pursuing a
career change as a carpenter apprentice. Volunteering my spare time
speaking with legislators about unjust laws and making a strong case
for reform. What i'm most proud about is the mentorship programs I'm
involved in and working with at risk youth. Giving back to the
communities that I spent all my adolescent years taken from. And I'm
thanking God everyday for the opportunities he continues to afford my
newly found freedom.
Sincerely,
Marcus L. White