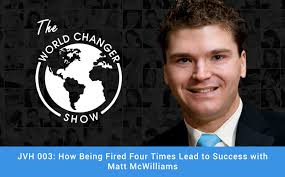 As a Prison Consultant I routinely field calls from individuals who've been indicted. They may have a defense attorney, but they want to learn about subjects like the presentence investigation or whether they qualify for early release through the residential drug abuse program RDAP. With a depth and breadth of experience that is unmatched in advising people as a prison consultant, I offer a number of options. Some choose the do-it-yourself approach through inexpensive guides I offer at PrisonProfessor.com. Those guides require a far lower investment as compared my prison consultant services. But I also offer an abundance of free content through the Earning Freedom podcast.
Ordinarily, I share strategies that empowered me through 26 years in federal prison. Or I interview other formerly incarcerated individuals who emerged successfully. Or I share strategies with community leaders and CEOs.
Prison Consultant speak with Matt McWilliams, The World Changer
Today's episode features Matt McWilliams, an expert online marketer. I appreciate Matt for sharing insights with our audience. Business owners pay Matt hundreds of thousands of dollars each year so that he will teach them how to build effective affiliate marketing services. Instead of charging us, Matt generously gave his time and to provide an impromptu lesson on affiliate marketing services.
People in prison or the formerly incarcerated will find real value in Matt's message. Employers may not be so willingly to hire an individual with a criminal background. Yet individuals who prepare can overcome those challenges if they learn the skill set that people pay Matt to teach. As a prison consultant, I encourage you to listen and learn from leaders who offer such expert guidance.
Those who want to communicate with Matt directly may reach him at the following email:
Matt also hosts The World Changer Show, where he podcasts under the motto that life is all about finding the inner world-changer inside of you, because everyone is created and born to be a world changer.
Twitter:
@MattMcWilliams2
If you'd like to learn from MasterMinds who teach strategies to overcome struggle, join our MasterMind group. Learn from expert affiliate-marketing coach.