From Bars to Benjamins: Shakoure Char Carpenter
Shakoure Char Carpenter grew up in a tough, New York environment. As a young boy, leaders from the streets influenced him. He got sucked into their lifestyle. The friends he chose led him into deeper problems than he could imagine. At 18, authorities arrested him for felony murder. A judge slammed Shakoure with a life sentence. He served 23 years in high-security prisons.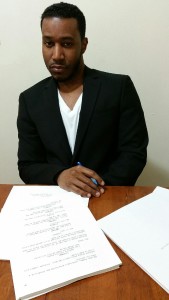 While incarcerated, Shakoure made a commitment to prepare for success. He educated himself. When resources dried up, eliminating funding for prisoners to study toward a university degree, he kept going. After 18 years in prison, he earned his first bachelors degree. Then he earned another, and eventually he earned a master's degree.
Shakoure is a mastermind. Rather than being traumatized by life term in prison, he found strength from within. He rejected the criminal lifestyle and prepared for success. His podcast describes strategies that empowered him through the decades he served. Now that he's free, Shakoure works to improve outcomes for others.
Below is a copy of his bio and the impressive work that he's done.
Shakoure Char Carpenter
MEDIA INTRODUCTION:
Pascual "Shakoure Char" Carpenter (pronounced Sha-kori Shar) is a stage actor, ministerial counselor, social media entrepreneur, and screenwriter. In addition to published poetry and commentaries, he has written four screenplays, one of which completed as quarterfinalist at the International Filmmakers Script Competition, 2009.
Shakoure is also the founder of Scripticket.com, an upcoming social media startup that bridges moviegoers, screenwriters, and production studios.
Academically, he has earned three college degrees, including two Bachelor of Science degrees, a Master's in Professional Studies and over a dozen other certifications. What makes these accomplishments interesting, however, is that he earned them while incarcerated in the State of New York.
After a controversial life sentence for an unjust, high profile conviction, Shakoure vowed to develop his potential to the highest extent possible while behind the wall.
This led many on the outside to take interest in his case and a subsequent documentary that was instrumental in his campaign for release.
Today, after a year of walking out a free man, Shakoure has taken his experience, education, and entrepreneurial skills to found a new, uniquely positioned production venture called From Bars II Benjamins. In the foregoing interview, we'll let him tell us more about what this organization is about and the unique impact it is trying to effect in the world of reentry.
Short Award-Winning Documentary: 23 Reasons
Press: NY Times Article (day after release)
https://www.facebook.com/FromBarsIIBenjamins
https://twitter.com/FBIIB?s=09